When looking for leaks, think like a rain drop.
Every year, the Roofing Alliance's Most Valuable Player (MVP) Award program recognizes and celebrates workers who are nominated by their coworkers in two categories:  1) Workers who exemplify dedication to their work, employees, and company; demonstrate a strong work ethic; and practice excellent leadership, initiative, and resourcefulness.  2) Workers who show compassion for others outside the workplace and volunteer their time with their communities, churches, families, and friends.
MVPs are dedicated to their work and to helping others, going above and beyond to get the job done and ensure everyone feels valued for what they do.  Seven winners were selected for 2020. At RoofersCoffeeShop® we live by our motto of Roofing Respect® and are highlighting each of the MVP award winners. Keep reading to understand how these devoted individuals add value to their workplace and contribute to the world around them.
Jimmy Cobb, known affectionately to those around him as "Lefty," is no stranger to outsmarting the elements. As he says, "When looking for leaks, think like a rain drop." Over the course of his 48 years at Graham Roofing, Inc. Jimmy has "seen it all and done it all" as stated by current company President Christee Holbrook.
Graham Roofing, Inc., where Jimmy is currently the superintendent of operations, is based in West Point, Mississippi, and has an additional branch in Saltillo, MS. Originally founded in 1968, Graham Roofing gained an integral family member when Jimmy began working there in 1971 at just 17 years old. Jimmy's exceptional roofing knowledge gives meaning to the term "rest assured," as some who have worked with him describe being able to sleep at night as one of the results of knowing that Jimmy is on the job. Resourcefulness, work ethic, support, leadership in safety and quality workmanship are the defining traits that make Jimmy "Lefty" Cobb an essential part of the foundation of Graham Roofing, Inc. You can always count on him to raise your roof quality.
Every great roof starts with a strong foundation, and the same can be said for the employees who comprise the foundations of great roofing companies. James D. Graham, founder and former president of Graham Roofing, Inc. explained that Jimmy began working as a laborer after school in 1971 and progressed through the ranks to superintendent. While highlighting Jimmy's good work, promotion of safety in all aspects of the job, and the strong working relationships he has developed with fellow employees, architects, and customers James said, "I don't know what more Lefty could have done to make Graham Roofing the successful company it is today. He always did his part plus."
Further emphasizing the strong working relationships for which Jimmy is known, Holbrook reflects on Jimmy's unique ability to serve as the "go-to" guy across the board, lending his knowledge and resourcefulness to all of the various groups with which he works in the roofing industry. She says, "He is the go-to person for numerous architects, general contractors, and other roofers when they have a roofing question or issue. He catches issues before they become issues on the job." Many of those with whom Jimmy has formed relationships were happy to weigh in. While their industry roles and experiences may differ, these individuals all have one thing in common: they know they can go to Lefty.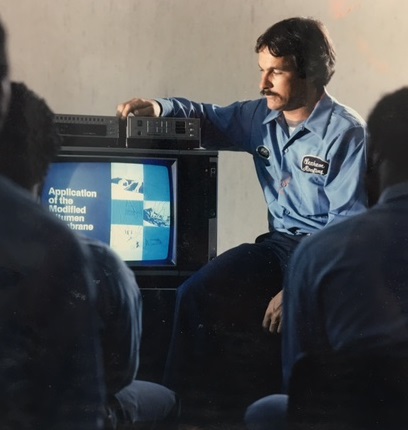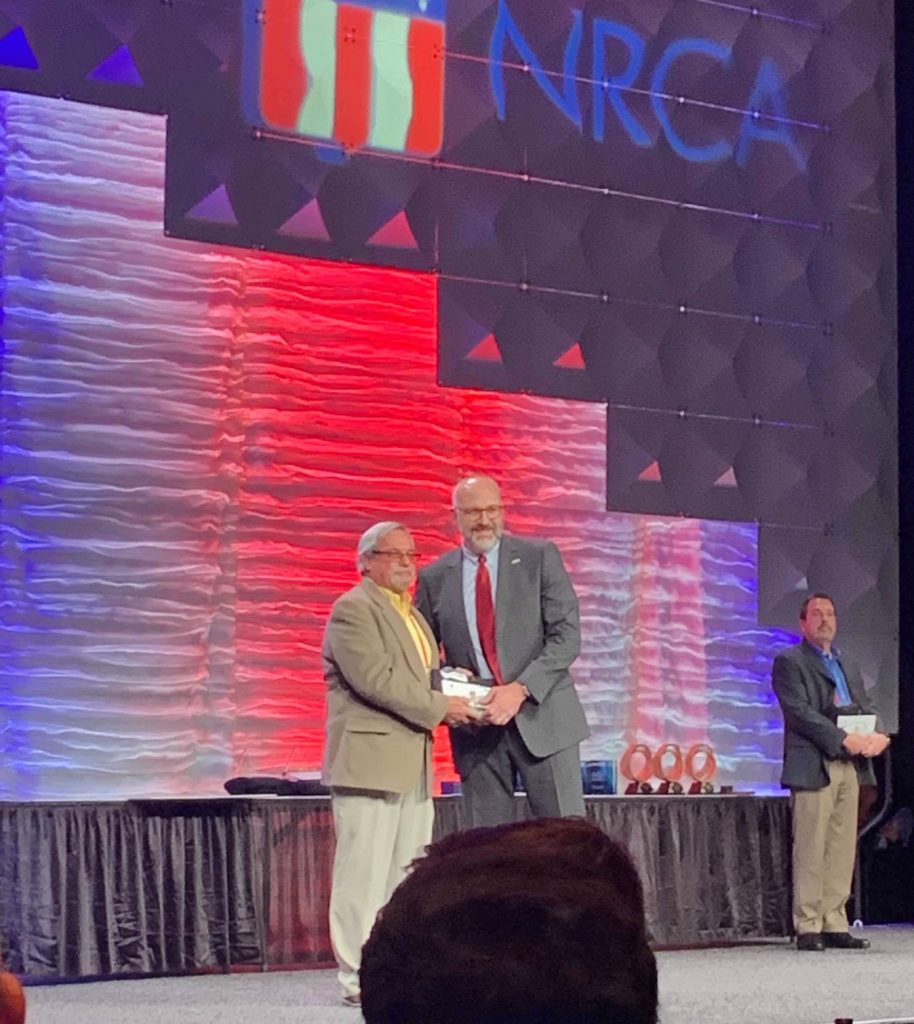 The ease of concern expressed by Henderson when it comes to Jimmy has been felt by others in the industry who have had the opportunity to work with him. Mark Grissom, senior estimator at Copeland & Johns, Inc. says, "I always know that when Lefty is involved, we at Copeland can sleep easier knowing the building is protected [from] the elements." Mark praises Jimmy for his dedication to safety, the manner in which he addresses issues to prevent them from interfering with the timeliness and quality of a job, and his overall experience and expertise. In Mark's words, Jimmy is "the glue that makes things happen at Graham Roofing, Inc."
Factors such as the amount of time spent working together or scope of industry experience put no limitations on the cultivation of Jimmy's working relationships and the strength of their development. He strives to lend a helping hand and provide assistance as a resource for anyone who needs him, extending an equal amount of care and concern for all.
Rob Winklepleck, Vice President at West Brothers Construction, discusses his experience with Jimmy from the perspective of a young professional in the construction industry and describes Jimmy as a friend, mentor, teacher, consultant, liaison and even job site comedian. He explains that a conversation with Jimmy always leaves him in a better state of mind and describes how during his short career in the industry, Jimmy has been there for him as a sounding board for all issues related to roofing. Rob said, "Lefty has always had a knack for keeping things lighthearted while still deploying the utmost of professionalism. Lefty's knowledge for his craft is unmatched among industry professionals. He has an uncanny ability to bestow his knowledge on his peers without belittling them or making them feel ignorant."
"BOTTOM LINE, Graham Roofing would not be Graham Roofing without Lefty Cobb. He has helped Graham Roofing become one of the most highly regarded roofing contractors in the south and he will always be thought of as the company's Most Valuable Player," said Graham Roofing, Inc. Founder James D. Graham.
Clay Terrell of Cherokee Building Consultants, LLC., remembers the very first project that Jimmy did for him in 1978; a built-up flat roof with a shingled mansard front. In discussing his experience with Jimmy over the years, Clay said, "Lefty has always been my go-to guy for advice on roofing systems, details, and specifications." From that first job in 1978 to their most recent project in 2018 and the many roofs in between, working with Jimmy has always been a pleasant experience for Clay. When it comes to Jimmy, there's one thing Clay knows for sure, "There is a great deal of knowledge in that old head of his."
Describing "a friendship measured in decades," Roger Pryor of PryorMorrow shares Clay Terrell's sentiment for many great years spent working with Jimmy. Pryor, who has been practicing architecture in the mid-south region since 1985, considers Jimmy his go-to guy for roofing challenges and admires Jimmy's consistent leadership in problem-solving and quality control. He said, "Jimmy is always available to discuss details and his technical knowledge is willingly shared with architects, general contractors, and the crews that he supervises. Jimmy is a credit to the construction industry."
Having known and worked with Graham Roofing, Inc. and Jimmy throughout his career, Joseph Henderson, Vice President at JBHM Architecture, says that Jimmy "has always been very reasonable, accommodating, and quick to propose solutions to any roofing issue." He explains that Jimmy's evident work ethic and technical skills come together to make him a tremendous resource concerning roof systems and systems application. Reflecting on his experiences with Jimmy, Henderson reinforces the notion that when Jimmy is around, you can rest assured that you're in good hands. He says, "It always eases my concerns about quality and workmanship when he is on one of our projects."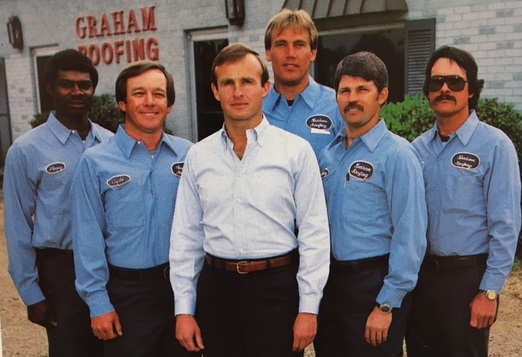 Kate Edwards, Roofers Coffee Shop, May 10, 2020